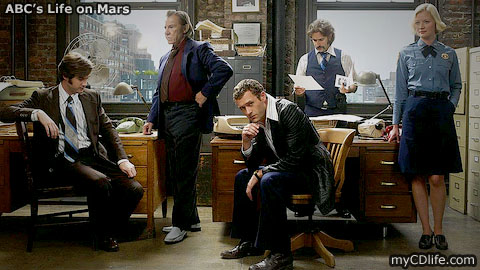 If you've been following the show like I have, you know the deal. Detective Sam Tyler gets hit by a car in 2008 and is knocked out. He wakes up to find himself somehow stuck in 1973, working for the 125 (precinct) while trying to figure out how he ended up in the past and how to get home to 2008.
If you've never seen the show, it was a really cool mix of sci-fi, 70's cop show, and detective mystery, laced with humor and loaded with style. It featured an amazing cast of actors and well written story lines. Sadly, it lasted but a single season and just ended this past Wednesday.

This often seems to happen with TV shows that I really enjoy. They either end up getting canceled way too early, or start out really great only to turn into something that I no longer care for (like LOST after season 1).
The decision to cancel Life on Mars was made before the final episodes were shot, meaning the writers could wrap up the show and resolve the mystery of why Sam ended up in 1973. This of course, was a reoccurring theme in the show – Sam trying to work out what he's doing in 1973 and occasionally trying to explain to others that he's from the future. I was looking forward to the series finale and finding out how and why Sam ended up in 1973. The show often hinted toward some greater purpose to his being there.
Before watching the final episode on DVR on Thursday evening (one day after it was broadcast), I decided to look up the number of episodes that were made. I thought it was about 10, but turned out to be 17 (total), according to Wikipedia. For some reason, I decided to read about the character bios on the Wikipedia write up before exiting the page. BIG mistake. Reading the bio of Sam Tyler, the show's lead character stuck in 1973, gave away the big surprise ending. I thought I was playing it safe – skipping over all the content about the show and plot synopsis and just reading a few bios. I really hate spoilers and prefer to discover everything fresh as it plays out in the show. I don't know what brilliant nimrod decided it was a good move to alter the bios with the "big reveal" information, but I'd like him or her banned from Wikipedia for life, please. The bio should have read something about a detective from 2008 getting stuck in 1973, NOT what was revealed in the final episode. That part should have been reserved for the plot write up. After all, that is exactly who Sam Tyler was in every episode, until the big ending.
Unfortunately, the ending was spoiled for me before watching the show. I should have known better than to look up anything before watching it. My wife was able to enjoy it without knowing anything prior. She rather enjoyed the surprise ending. It had some cool and interesting elements to it, but on the whole, I did not care for it. I can't help but wonder if I might have enjoyed it more if I did not know what was coming.
There are some spoilers ahead so please stop reading this if you don't like spoilers and haven't seen the ending or haven't seen the show at all and might like to watch it later (which it really was a great show and worth checking out). SPOILERS AHEAD
I'm really not a big fan of the whole "surprise: it was all just a dream" kind of ending. Although it was an interesting take on that particular premise, the whole single-season story was, in essence, just a dream and I didn't care for that. The great characters and wonderfully fun 70's style cop-show themes were nothing more than a dream-fantasy that played out in astronaut Sam Tyler's head in 2035, while in stasis on his way to Mars. The greater meaning of why he ended up in 1973 from 2008 turned out to be nothing more than a simple computer glitch. In a "Wizard of Oz" move, it was revealed that the other characters of 1973 were in fact fellow astronauts on the ship with Sam. His tough-as-nails police boss in 1973, played masterfully by Harvey Keitel, turned out to be his father. "Windy", the hippy chick neighbor who refers to Sam by his apartment number "2B", turns out to be the ship's computer. Sam was actually in stasis chamber 2B on the ship.
I really enjoyed the show and was sad to see it get canceled so soon. I was initially glad that at least the show would have an ending rather than just disappearing without any resolution to all the questions posed as it played out. The ending was a bit of a let down to me however. I would have preferred the show just stopped being produced… or better yet, continue on to a second season. How many other shows are cool enough to have a character nicknamed "No Nuts"? Looks like No Nuts won't be serving the donuts anymore though – not when she's been promoted to detective… or rather turns out to be just a dream character based on a fellow astronaut.
Did you enjoy the ending? Were you happy with how things were resolved and explained? Do you wish No Nuts would bring you some donuts right about now?