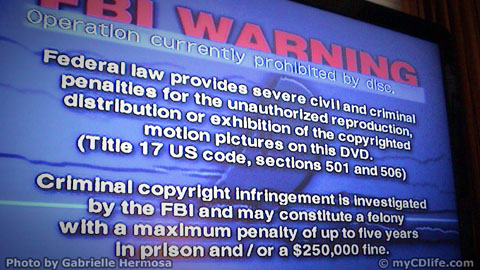 My wife and I watch a TV show or movie together on DVD a few times a week. DVD players are great, aren't they? You just pop in the disc and can immediately skip to anywhere in the production or fast forward or fast rewind or whatever – all with the push of a button or two. So much easier to navigate than those clunky VHS contraptions were, right? Except… every time I put in a DVD and try to skip to the content, I get this annoying message!

Wait a minute – MY DVD player, MY remote, MY house, MY TIME! Who's brilliant idea was it to take control away from me, the paying customer of the DVD player and rental DVD, and force me to wait an extra 20 seconds for the stupid FBI warning and then another 20 seconds for the production studio's animated logo… and often another animated logo or two before I can watch the main attraction? This ain't some movie theater where they can stick in 20 minutes of movie commercials (trailers) before showing the movie I just paid to get in and see… this is my house, my equipment, and MY very limited time!
There was actually more control with a VHS player. I had it worked out to a science – pop in rental movie, fast forward to the 6 minute mark, and then play. It was always the start of the movie on the tape – right there, 6 minute mark every time. No waiting for this or that. No being forced to watch FBI warnings or animated logos – just me choosing to do what I want and watch ONLY what I want. The fast forwarding took about 10 seconds, true, but that's a bit more palatable than 40 or more seconds of warnings and studio logos.
Some of you may be wondering what's the big deal. What is but one minute of my day, right? The point is not that they cost me the better part of a minute, the point is that some munch-head decided it was best to remove control from me, the paying customer, and stick me with with FBI warnings and animated logos that I don't care to see. I'm well aware of the FBI regulations and fines and I don't care how wonderfully animated studio logos are. I don't want to see them. I don't want to sit there waiting for them to finish. I want to press a button on my remote and get the show started. That's why I paid money for the DVD player. That's why I rented the DVD.
What gets me more is that some DVD's will actually cut back to the FBI warning and animated logos and play them again if I continue pressing the menu button repeatedly – like it's some kind of punishment for trying to get right to the content I paid to see. I swear I'm going to embed one of my heels in the TV one of these days. It really is irritating… over and over and over and over and over on every DVD every time all the same garbage. FBI warning… animated logo… another animated logo… and oh – FINALLY, I get to start watching the feature. Good thing they play that FBI warning because I've never ever seen it before in my life. Good thing I couldn't fast forward through it for my own good, right? Good thing. Yeah.
Ok, so I'm just a tad annoyed about this. I doubt I'm alone though. Maybe you don't get as annoyed when you get slapped with the annoying FBI warnings and animated logos each and every time, but I bet you'd rather just get to the main feature, wouldn't you? You enjoy other people telling you how you can control your own devices in your own home?
Maybe it's just my DVD player. It's a Sony. If this is just a Sony thing, I'm SO done with Sony! Does your DVD player do this too? Who made yours?
I don't have a Blu-ray player yet. Not in any rush to get one. Please tell me they didn't pull the same garbage with those things.