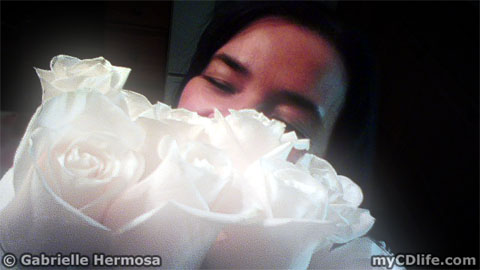 It's Friday… thank GOD it's Friday! What a crazy, busy week it's been for me. That's often how things just work out in my life.
During the week, my wife, the fabulous Mrs. H., brightened up my days with her usual awesomeness. From her amazing, delicious Puerto Rican home cooking to the incredible way she rocks my world (and everything else in between) – she's the greatest.
I love my wife with all my heart and thank God for her presence in my life. This afternoon I will greet her with a nice bouquet of flowers in hand. If you're reading this, why not surprise your wife or significant other with some flowers, too. The loving smile they offer in return is worth every dime!

Every couple of weeks or so, I bring her flowers just to let her know I love her and just to enjoy the beautiful smile they put on her face. Flowers really don't have much value to me. I mean, they're kind of expensive for something that really doesn't last long. Some people may see it as a waste of money, but it's really not. Like I said, the smile it makes on her face is worth every dime. She knows I love her – I tell her frequently, and show it in many ways. She loves getting flowers though, and lights right up with joy.
Even though I don't bring her flowers every week, she kind of knows my pattern. It's usually on a Friday and usually a couple of times a month. In light of that, maybe the surprise element isn't very high, but she loves when I greet her with a bouquet of flowers followed by a hug and kiss.
I call it "marriage maintenance" – the little things that aren't necessary, but still make a big difference in the general level of happiness. Are you up to date on your marriage maintenance? Flowers aren't just for dating and special occasions. They put a big smile on my wife's face every time, and I bet they will for yours, too.
When's the last time you brought your wife some flowers for no other reason than just because you love her? Why not do so today. There are often additional benefits in bringing your wife flowers, too, you know. ;) I'll leave that to your imagination. But don't just imagine a happy marriage. MAKE it a reality.
Have a great weekend, everyone. Bring your wife some flowers and I bet it will be that much better for the both of you.
Update: The photo up top is that of my wife admiring the flowers, moments after I came through the door this afternoon. I brought her a dozen white roses. As expected, a HUGE smile was on her face (sorry the flowers are covering it – she asked not to have her face shown completely). Mission accomplished. The previous photo was of a bouquet I bought her some time ago.