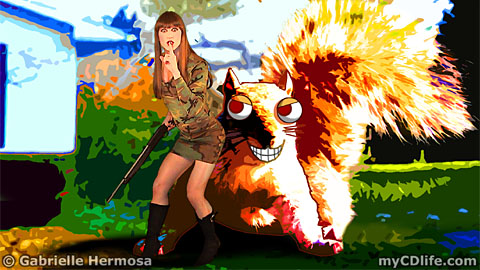 "Shhhhh! Be veeeeery quiet! I'm hunting SQUIRREL!"
When it comes to squirrel hunting, I'm about as successful as old Elmer Fudd going after his wascally widdle wabbit. Now why on earth would a nice, peace-loving t-girl like me be hunting down a cute, little, fluffy squirrel with its cute, little, bushy tail?

A couple of squirrels found their way into our home earlier this year. A small piece of wood just below the roof had blown off the house during a windy storm. It wasn't long before I started hearing odd noises coming from the attic near that part of the house. A quick trip outside to investigate, and I saw it… the demon squirrel from hell peaking its little head out of the hole. When I moved closer, it quickly exited the hole and ran off across the roof where I lost track of it.
I'm not very handy with home repairs, but I managed to replace the wooden panel that was blown off. Problem solved. The squirrels can't get in anymore.
A day later, I heard the noises again. Hmm. Maybe I trapped one of them inside when I replaced the panel? Nope. The little bastards had literally clawed and chewed their way through the panel and made a new hole. They found a nice, cozy little place to stay and weren't giving it up.
I fixed the panel again. They chewed another hole. Nothing like wasting hours of my time only for the little demon-rodents to keep busting in. God only knows how much damage they might cause in the attic if I didn't get rid of them soon.
I tried putting poison in there, but they didn't eat it. I used some kind of squirrel spray that was supposed to smell like one of their natural predators. It worked for one day, and they returned. Subsequent spraying had no affect. These little bastards are pretty smart.
I hired a professional contractor to build a completely new covering for that part of the house. That did the trick. The squirrels were not able to burrow their way back in… but it didn't stop them from trying. They chewed and scraped up the new panel, and destroyed a completely different panel, trying to find another way in. Grrrrr. The only way to put an end to this, is to put an end to the damn hell-rodents themselves.
With my Official Red Ryder Carbine-Action Two-Hundred-Shot Range Model Air Rifle in hand, I went on the hunt. Actually, it's a Remington Air Master, but I've always wanted to use the "Red Ryder" line in one of my posts. Mark that one off my bucket list.
Over the next several weeks, every time I spotted a squirrel in my yard, I'd grab my air riffle and go after the little bastard. Each time, the damn squirrel put a good distance between us before I could take aim.
My wife is pretty amused by it all. With every squirrel sighting, her husband, the amazing crossdressing squirrel hunter, frantically grabs the riffle and goes on the hunt like Ahab after the whale.
I've fired off dozens of rounds, but have yet to claim my fluffy-tailed trophy. Perhaps some things are just not meant to be. Elmer never got to eat his wabbit stew. Gargamel never enjoyed gourmet Smurf. The Wicked Witch of the west never obtained the ruby slippers. Wile E. Coyote never caught the Road Runner… except for in that one episode in which the coyote was (shrunken) too small to do anything after "catching" the towering Road Runner. That's kind of what I based the above image on: Gabi in pseudo-cartoon land being outsmarted by the giant evil squirrel of doom.
The hunt ain't over yet. One of these days…