Dear Gabi,
I have been under great stress at work. I still have a job but I feel trapped I can't be me. You are free and have the support of your wife. I don't know what to do any more, I can't come out at work or I'll be fired for being TG, I'm thinking of seeing a therapist but have a strong fear that if I use company med. insurance it may get back to the new owners of the company and I'll be fired.
I have been hoping to find support in online TG communities. I'm not a kid anymore. I'm also 55 years of age and I'm not pretty like you and many other t-girls I've seen. I love your goth picture.
God if only I had the money to free me from working and the money to transition and live my true self as Margueritte full time, may I ask you how you can live and be both male and female with out the homophobic BS from people around you? Sometimes I think of taking a bottle of sleeping tablets and just ending it all. How do you handle the pressure and depression?
Trapped
Margueritte

---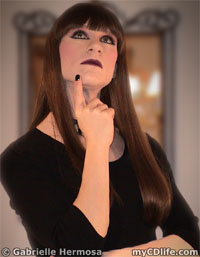 Dear Margueritte,
I understand your feelings of being trapped, frustrated, and depressed. Trust me when I tell you that you're not alone.
Health insurance privacy
Seeing a therapist using company provided insurance will probably not result in your employer finding out. My own employer is unaware of the fact that I've been seeing a psychiatrist. My health insurance covers most of the cost, but that information is not shared with my employer. Call up your insurance provider (directly, not through your company) and ask what the policy is on that. You should be able to find out one way or the other and take it from there.
The illusion of beauty requires quite an investment
Your compliments on my appearance are much appreciated, but the reality is I work very, very hard to look like this. Some are thin and attractive naturally. Others have to really work at it. I fall into the "others" category. I was not blessed with the "thin" gene and have to spend hours every day exercising. I also have to watch my food intake because my body has a naturally slow metabolism. It is a lot of very hard work. Chances are, most people who are willing to subject themselves to a strict diet and commit to a daily exercise regimen will look physically fit and more attractive for the effort. Like many, I also struggle with vanity issues and cannot live up to my own desired standard of beauty. There are dozens of t-girls out there (and genetic women, for that matter) who's beauty I'm quite envious of.
How I do it
When it comes to "how I do it" – in other words, how I live my life as the man and as the t-girl, with such balance and freedom without the BS and pressures getting to me… the answer is I do not. I have yet to achieve a good balance, and it does get the best of me sometimes. I really have to put forth a conscious effort to rise above all the garbage, hold my head high and keep moving forward. It is a simple choice I make and hold myself to. There's nothing easy about it.
My loving, accepting wife
My wife knows and accepts my feminine side. She has been very helpful in making "Gabrielle" possible. At the same time, our marriage is far from perfect. Being a transgender has not caused trouble, but this is but one aspect of my life. There are plenty other aspects she isn't so happy about. Many (tg) people perceive her acceptance of me as a crossdresser as "marital bliss". It only means that this single aspect of my life does not cause trouble. Our marriage is a good one, but we both have to work hard at it.
Living in a society filled with hate
There's nothing easy about dealing with society's bigotry and hatred. It is ironic that on the day you sent your message, I was terribly stressed out and very depressed myself. Trouble finding ways to be out in public (en femme) safely, and my inability to move freely in society as Gabrielle had really gotten to me. Despite my photos, in person, I am usually easily read. That translates to standing out and drawing negative attention in my town. Although I refuse to let the dangers (hate-filled thugs who may do me harm) prevent me from getting out, it does greatly complicate things.
Suicide is not a solution
Years ago, I thought suicide was the answer to my own depression and troubles. Now I am so grateful that I lived through the terrible things I once did to myself. Had I succeeded, I never would have met my beautiful wife and enjoyed all the wonderful experiences I have in life. Nor would I have ever gotten the opportunity to become the lovely Gabrielle. None of this would have existed.
Nothing is easy in life, but it's always worth living
Some people have easy lives. It's just a fact. For many of us however, life is not so easy. Try to recognize the areas in your own life that you are not happy with and figure out what you need to do to improve upon them. You'll have to work hard on making your dreams a reality. They most certainly will not magically come true on their own. Best to attack one problem at a time though. In addition, take things one day at a time.
What to focus on first
I suggest you look into seeing that therapist you mentioned. It sounds like a good starting point to figure out what it is you want, and what it will take to achieve it.
Life is full of challenges and obstacles to overcome. I have overcome much adversity in my own life – things I once believed not possible. I think you will too, Margueritte.
 
Related content: Dear Gabi Advice Column
Write to Gabrielle: Dear Gabi submission page