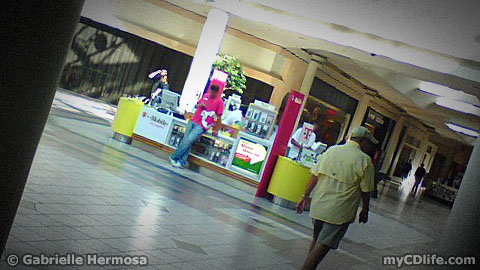 While browsing a local mall (en femme) and minding my own business, I noticed male employees of a T-Mobile kiosk up ahead staring me down with a rather unpleasant look on their faces. There was what appeared to be a customer being assisted at the time, but their focus was on me. From several meters away, I very clearly heard one of them say "There goes a faggot." It was spoken louder than the rest of the conversation, indicative of his intent for me to hear it.
I would expect this kind of lowbrow behavior from immature kids and street thugs, but not from on-duty employees and representatives of any business, regardless if their own misguided personal views.
As mentioned in my previous account of browsing the mall en femme, I did not allow their bully tactics to ruin my day. They rattled me and gave me a good scare – good for them. I'm sure they're very proud of themselves for their juvenile display of aggressive behavior toward a completely harmless person. Nothing has changed though. I'm still me, very happy to be who I am, and a little wiser for the experience.
What did you THINK would happen?
The "what did you think would happen going out dressed like that" question that some people may be pondering is a load of bull. I didn't "bring anything upon myself". I've got every right to be out in public as any other law-abiding citizen. I've also got the right to personal self-expression so long as my self-expression is not unlawful. In turn, these guys are allowed their opinions, right or wrong. As on-the-clock representatives of T-Mobile however, derogatory comments and acts of intimidation toward the public reflect on the company as a whole.
I'm a human being
It's sickening how some "people" (and I use that term loosely) are so comfortable going out of their way to make life difficult for others simply because they disapprove of their differences. I understand that many view people like me as "sub-human". Well, that's just too bad. I'm not sub-human, and will not tolerate being treated as such by representatives of any company. No one should just put up with such terrible treatment.
Silence is not an option
Staying silent about something like this would be irresponsible on my part. In my opinion, it's irresponsible for ANYONE to simply put up with garbage like this. It took time and wasn't easy, but I wrote a letter detailing the incident to the CEO of T-Mobile, Robert Dotson. I didn't actually expect the company CEO to look into this matter personally, by the way. Not knowing who exactly to direct this to, I understood that his secretary would probably see to it that it ended up in the right hands.
I encourage you to read the letter. It explains the troubling encounter in detail. The link is to an image file or graphic representation of the letter. Some personal and geographical elements of the letter have been obscured for privacy reasons.
Disappointing, but expected response
Eight days after mailing the letter (via postal service), I received an e-mail response. It was short, vague, and seemed intended for diplomacy purposes more than anything.
What can be expected to be done?
In all fairness to Mr. Fox and T-Mobile, matters of this nature are anything but simple. From their perspective, what's to say that someone didn't just make something up for whatever reason? Fact is: what I detailed in my letter is what took place, but I think you understand my point. One person's word against another usually results in a stalemate – in other words, if nothing can be proven, nothing "officially" took place.
Bringing out the truth
I pondered whether or not to offer a suggestion in response to Mr. Fox's e-mail, but didn't think it would be taken seriously. Few companies would welcome advice on how to "do their job" from outsiders, and that is understandable. Even so, I felt compelled to offer it anyway.
Since replying to his e-mail with my suggestion, I haven't heard back from Mr. Fox, nor do I expect to. Most companies will not discuss or share information of this nature outside of authorized personnel for numerous valid reasons.
What now?
There is no way (for me) to check on the status of any investigation or even confirm that one has taken place. For all I know, my initial letter was only taken with minimal seriousness by people who might even share the same sentiments about transgendered people as their local sales representatives. Actions taken, if any, may be nothing more than a superficial show of good intent in effort to minimize any potential backlash.
I'd like to believe that my account has been taken seriously, that the investigation is very real, and regardless of their findings, that something is done to let it be known that publicly disparaging people (regardless of personal feelings) is absolutely unacceptable behavior for company representatives to engage in.
It could have been anyone
The behavior exhibited toward me by the T-Mobile sales employees is not unique. I'm well aware of how ignorant people in this town (and abroad) view people with differences like mine. It sometimes feels like the 1950's and I'm a black person who just walked into a white neighborhood – given a hard time for no other reason than my personal appearance.
Regardless of what it could have been, it was what it was. Local representatives of T-Mobile made it clear that and displays of intimidation and openly referring to shoppers as "faggot" is acceptable behavior. If nothing is done about this, then they're right, it is acceptable behavior.
Do you do business with T-Mobile?
I'm not a T-Mobile customer, but I wonder about their numbers. Statically, how much of T-Mobile's business comes from transgendered people? Additionally, how many T-Mobile customers are gay? Though in the minority, the two groups together represent a significant portion of the human population. That's a lot of consumer dollars up for grabs.
About the photo
The photo above is of the actual T-Mobile kiosk this took place. I went back the next day (in guy-mode), observed for a while, and took a picture. I do not imply that the employees seen in the photo either are or are not the same as those who behaved poorly toward me the previous day.
Stay silent, and nothing changes
Tired of being disrespected for no other reason aside from being yourself in public? Do you just accept the dangers involved in public shows of self-expression? You'd better speak your mind, friends. The bigots and haters have, and will continue to speak their minds and make life difficult for us if you do nothing.
Why don't you start by speaking your mind here – share your thoughts in a comment.
 
Related content: crossdressing in public