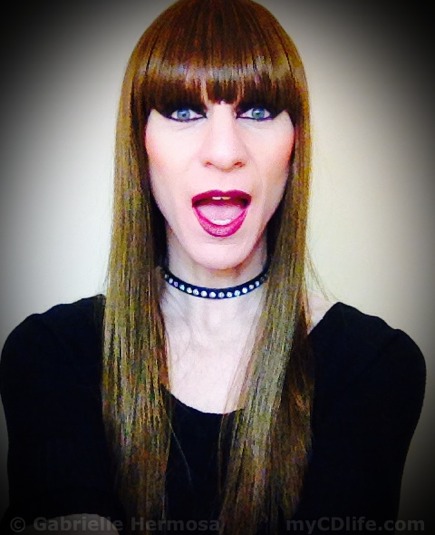 2013 was a year filled with beautiful new experiences, new friends, personal growth and important life lessons. In 2014 I plan to continue working toward my goal of living life (full-time) as a trans woman and fostering much needed, positive trans awareness in society. Among other things, it includes taking every opportunity to attend to public aspects of life in my female form; as my true self (Gabrielle, not my man-facade).
The photo (upper-left) was taken just before heading out to make a few purchases from a local grocery store, and meet up with a friend at a local coffee shop. I ended up wearing a faux leather hat, which my wife, the Fabulous Mrs. H., recommended just before leaving the house. You can see the hat here in my Flickr photo.
Continued positive public experiences
I've gone grocery shopping several times over the last few months (in my female form) without a hitch. I'm happy to say it's almost become routine and boring. Almost. I still experience some fear in doing so, but I know that the fear is a lie, and I choose not to listen to it. With an "I don't care what people think of me" attitude, I just go about my business, and things tend to go very smoothly. No one has laughed at me in public in quite some time.
More often than not, the grocery store cashiers seem to be a little shy around me, or perhaps slightly uncomfortable. It's an understandable reaction in dealing with a trans woman, which is something they probably don't encounter in day to day life, and so may be filled with the usual misconceptions. Even though they're a little quieter when dealing with me, and often make as little eye contact as possible, they've been nothing but polite and professional, and I'm pleased with that.
I'm a person, NOT a thing
As I approached the grocery store this past Saturday, a group of four teenage boys were making their exit. They stopped talking immediately upon noticing me, and made no effort to disguise their stares. Just as we had passed by each other and they were now behind me, I clearly heard one of them comment, "What the hell was that?!", referring to me as the "that".
Dare I have some fun with this?
I generally try to amuse myself in situations like these, and bring a little humor or at least something light-hearted to the table. Maybe I can win someone over, who would otherwise judge me in a negative way just for being trans. With the boys only a couple of steps behind me, I considered responding with, "I can hear you, you know."
Best play it safe
Before the words left my mouth, I paused to consider the potential for a negative escalation of events, and decided not to tempt fate.
It's unfortunate an opportunity to bring some light-hearted amusement to the situation went unrealized. Their remark didn't bother me much, though. I get it – the remark and why it was made. In short, people fear what they don't understand. In this case, an attempt to show defiant, non-acceptance of my being was the chosen reaction by a young, naive mind.
I was once a young, naive mind, too.
The psychology behind this kind of behavior
This particular kind of derogatory reaction requires the presence of: more than one person, a naivety among at least one or more of the group, an element of fear, the social expectation of not showing fear, and an expectation of demonstrating social conformity by openly rejecting and disparaging that which instigated the fear.
This demonstration serves the purpose within the group by building a foundation of expected/accepted social structure, policing it, and compelling continued conformity. The boy who made the rude comment may not have been terribly bothered by my presence, but rather simply delivering what he felt was the expected reaction to my presence. Once he became aware that all of the group had taken notice of me, by all accounts, the living embodiment of a perceived social taboo, he may have felt it necessary to display his rejection of me to the others, in an effort to proactively show his expected conforming social behavior. Even if only in reaction to his perceived social expectation, it also serves to keep the others in check by conditioning, or "policing" continued social expectation of the group. This is one of many ways that such negative behavior displays are taught and perpetuated. Once this behavior has solidified as "good" and "normal" and "expected", it can be rather difficult to change. It's entirely possible that the young man who made the rude comment was more uncomfortable about potentially being seen as "not rejecting of me" rather than any discomfort caused by my presence (as a trans woman, "social taboo" and something he is naive to).
Which combination of social conformity mechanics were playing out in his mind are only speculative on my part. It is an interesting study, though, in my opinion. The best way to bring about positive change within society is to educate society. Understanding what is going on within a given social construct will increase the potential to educate the people who subscribe there to.
Some cool kids
A couple weeks ago, I repeatedly encountered a group of about 4 or 5 young children, ages approx. 8-12, while at the same grocery store. I expected to get some funny looks or for them to begin smiling and whispering to each other about me. To my delight, they didn't seem to take notice of me as anything other than just another human being taking care of grocery shopping.
A beautiful day with nothing to complain about
After shopping, I met up with a couple of friends at a local coffee shop and had a very enjoyable evening. The worst thing that happened in my day was this rude, and meaningless comment. Everything else was absolutely beautiful. I can't really complain about that. Well, I could, but I won't. I'm quite grateful for an awesome evening out. :)
Talk to me
What have your experiences been out in public? Have you encountered rude teenagers and chosen to engage them? Have you successfully "flipped" things and made friends of people like this in the process? Please take a moment to share your thoughts and/or experiences.