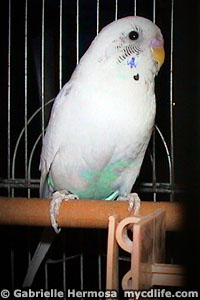 Our pet budgie died yesterday afternoon. I knew his time was near because he was showing the same signs our previous budgies did just before they passed and he was pretty old (for a budgie). Unlike our previous birds, this guy held on pretty long after displaying the initial signs. Perhaps he was able to last longer because this was our last of the once family of 5 and there were no other budgies to compete for food or territory in the cage. Or perhaps just because he was one stubborn bird.
I can't remember if he hatched in 1997 or 1998, with his two siblings. If it was 1998, that would make him 11 years old. That's not a bad run for a pet budgerigar. His father died after only 8 years, although we don't know how old he was when we bought him. His mother and sister only lasted about 3 years each. His other sibling died only weeks after hatching, before we could determine its sex or get to know it. I wonder if it would have been more like its father or its mother. This one took more after his mother: cranky, stubborn, and didn't like humans very much. Even so, I loved him a lot. He was an enjoyable little companion, if a bit on the noisy side. When he got too noisy, I'd just cover his cage with a thin blanket. It usually to calmed him.

The last several days, our little budgie was having difficulty moving around his cage. He still had a hearty appetite though, and would make his way back and forth from his favorite perch to the feeder several times throughout the day.
Yesterday, he was having trouble getting up on to the feeding spot, so I helped him up. He picked at some seeds for a while, then got back off and clumsily stumbled to the middle of the cage (floor). He sat there, kind of hunched over and laying down. I knew his body was giving out on him, he was exhausted, and could no longer make his way around the cage. I took him out and held him in my hand. My wife was in the room with me. This stubborn little bird who usually didn't like being held, decided he'd fly out of my hands one final time. Weak as he was, he didn't get far and came to a hard thud on the floor a few feet away. I was honestly surprised that he flew from my hand like that because he had let me hold him a few times without issue lately (in his weakened state).
On the floor laying on his back, he fluttered a little. I quickly picked him up and tried to free his left wing from being stuck under his left leg. It was too late though. That fall he took probably pushed him over the edge. He struggled to breathe while I held him. He literally took his last breath in my hand, as his eyes slowly shut about half way. I turned to my wife and said he's dying. She told me to put him back in the cage and allow him finish dying in peace in there. I said, "You don't understand – he just died in my hand, right now."
Mrs. H. brought me a small box and I put him inside. We dug a hole and buried him near a bush in our side yard. Rest in peace, my little friend – you will be missed. I hope you enjoyed your time with us. It was a pleasure having you.