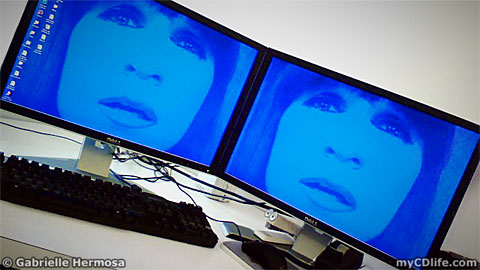 I often tell other crossdressers that I look so different en femme, fully made up, that no one (who knows my man-side) would ever recognize me if they saw. To test this a little, I changed my work-place desktop wallpaper to a close-up of Gabrielle's face. The photo above is of my dual wide screen 22″ monitors at work. Guess what people are saying…

Several co-workers have seen my new desktop wallpaper in the past two weeks, since changing it to my femme-face. I've caught a few of them starring at it (rather than making eye-contact) while talking to me. Oddly, no one has said a word so far. No one has asked who the image is, or smiled in a way that might indicate they know it's me. I've gotten absolutely no comments on the wallpaper image at all.
I'm not quite sure what I'd say if asked. Several stories have run through my mind, from telling them it's a random image I came across and liked enough to make my wallpaper, to explaining it is a friend of my wife's (which is fairly true). It's not a good idea to do this without having a good story worked out to satisfy questions, but I've not yet decided what to say should I be asked. I guess I'll find out if/when that finally happens.
The biggest surprise to me is that no one has questioned why another woman's face (who is not my wife) is displayed larger than life on my monitors. My co-workers have seen my wife enough to know what she looks like. Perhaps they do think it's my wife's face and that it just looks a little different because of the way the image has been processed. Hard to say.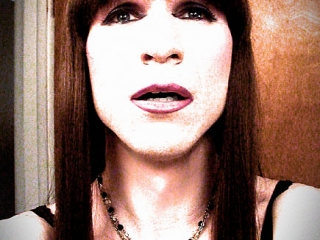 A processed close-up of me - went for a grainy, over-exposed look. (May 2009)For the record, it is not in my best interest to let people at work know about my feminine side. It might drastically alter the work dynamic between my co-workers and I. There is also a good chance I could find myself unemployed. I wouldn't get fired for being a crossdresser or anything, it would likely be because I put the wrong cover sheet on my TPS reports or something. ;) That would look better on paper and harder to fight in court.
To the right you can see the photo uncropped and without the blue tint. I tinted it blue because it makes a more visually pleasing desktop wallpaper that way, or so it does for me. I prefer not to have busy wallpapers that make my desktop icons difficult to see in contrast.
If you're a crossdresser who's not "out" at work, have you tried anything similar? Perhaps you have a photo of your femme-side hung with your family photos on the wall or sitting on your desk. Or maybe you don't dare display your softer side at work in any way. Tell me about it.
UPDATE June 21, 2009:
I had to remove the desktop image from my computer at work. Ironically, people weren't commenting on the image until after I decided to finally write about it. No one recognized the image as me, but I was getting questioned by co-workers about having another woman's image on my desktop rather than that of my wife's. I told Mrs. H. about this and she asked that I remove the image, to which I had decided to in light of how people were reacting. She felt funny about people thinking that I might be admiring another woman and I was already getting uncomfortable explaining to people that it was another woman (not my wife). It was an interesting experiment, but I think the desktop location was a poor choice. It gave the wrong impression that I have eyes for another woman outside of my marriage.