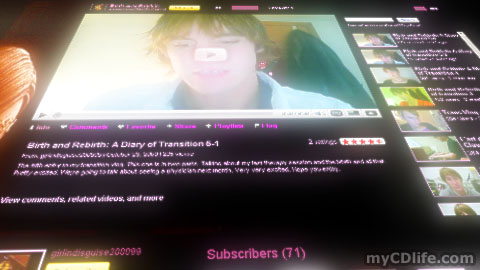 In June of this year, I published a letter written to me by Anna, along with my response. Her boyfriend, Matt, was a crossdresser and Anna expressed her many questions about the topic. If you've got some time, I recommend you read the original post before continuing here. This is a follow-up about Anna and her crossdressing boyfriend, Matt… who turned out to be more than just a crossdresser.

Anna was kind enough to offer me a brief update a few weeks ago. She explained that they're still together in a loving, committed relationship, and that Matt turned out to be more than just a crossdresser. He's a transsexual who has decided to transition. A short time after, Matt also contacted me personally to let me know that he has decided to document his journey in a continuing video blog (or vlog) series on YouTube.
Matt's real name is Todd, information I share with his blessing. Todd is on his way to becoming Tessa, his chosen female name, that will later become her legal name.
I was a bit surprised to learn that Tessa is a transsexual rather than crossdresser. So how does one go from being a crossdresser to transsexual? In Tessa's own words:
 
When I referred to myself as a crossdresser I used that as somewhat of a "smoke screen" to hide my real feelings. I figured I wouldn't have to confront those feelings if I could keep them at bay with something kind of like what I really really want (hope that makes sense).
It makes perfect sense, Tessa. I think it's safe to say that most of us that occupy the transgender spectrum have tried to convince ourselves of things that we feel might be more acceptable and/or easier to live with. There's nothing easy about existing as the kind of person that much of society doesn't understand and often frowns upon. The rationalizations and lies we tell ourselves are a defense mechanism, designed to minimize our feelings of not feeling good or right about ourselves, among other things.
I've watched several of Tessa's videos on YouTube. I encourage you to give them a look, too. The videos are not just trans-talk only, but instead offer an interesting peak into someone's life in a very personal way. For instance, Tessa is a very talented musician, pursuing a career as such, which is also discussed in the videos.
Transgendered people often struggle with this aspect of their lives for many years before finally discovering who they really are. Todd/Tessa offers a unique look into the thoughts, feelings and life of a transsexual going through the process of transitioning. Just as there is more to life than one's gender, there is more to these videos than just gender-talk. Although the content might be most meaningful to other transsexuals, there are feelings discussed that many transgendered people experience – crossdresser, t-girl, transsexual, and everything in between.
Tessa's YouTube Channel: Birth and Rebirth
I'd like to thank Tessa for being brave enough to document her transition process and allowing the world to see. I also send my love and respect to Anna, Tessa's girlfriend, for sticking by her love, regardless of gender.
 
Related content: Dear Gabi, I Have So Many Crossdressing Questions…