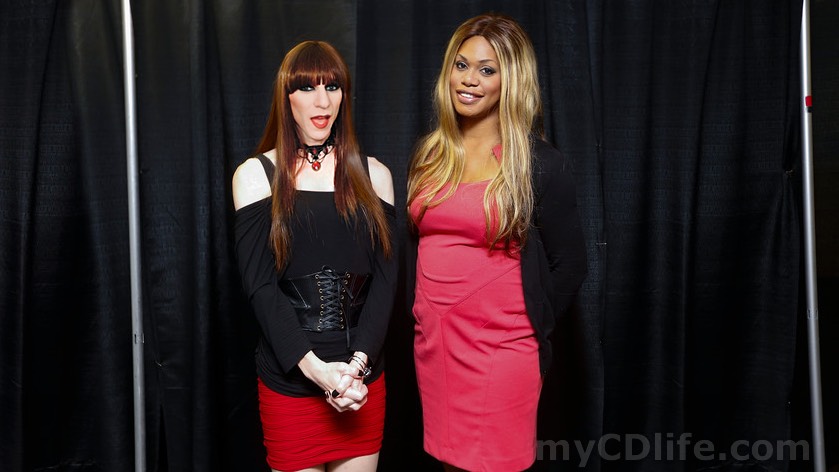 On Saturday, October 18, 2014, I had the opportunity to attend a talk given by Laverne Cox at the University of Rochester. Prior to her talk, I was among a group of people to have a photo taken with her. My excitement level was through the roof and I was filled with gratitude!
Meeting Laverne Cox
When it was my turn to have my photo taken with Laverne, I entered the room where they were handling the pictures. Laverne was over to the right and I immediately went up to her and thanked her for all she's done to raise positive awareness and educate people about transgender realities. "Your welcome.", she replied.

Until that moment, I didn't realize how tall she is. Usually I tower over other women. For the record, she's as beautiful in person as she appears on TV and in photos!
"Do you attend school here?", she asked.
"No. I've given a few trans educational talks at the University of Rochester, though, for general students and future healthcare providers.", I replied. With much enthusiasm, I shared how I enjoy opportunities to speak publicly about trans realities, issues and challenges. It fills me with gratitude and joy to engage people, share, learn, open hearts and minds and make new friends along the way.
Laverne smiled politely as I rambled on. Pausing for a moment, I looked over to the other side of the room, where the photographer and his assistant were looking at me kind of funny.
"I'm sorry – you probably have a schedule to keep.", I said to them. "Am I supposed to just get my photo taken and then let the next person in?"
"Yeah, we try to do these quickly so everyone has their turn.", he explained.
They took two photos of Laverne and I.
"Thank you, thank you, so much, for all you do! I look forward to watching you do your thing tonight!", I graciously told Laverne just before leaving.
It probably lasted only 3 or 4 minutes at most, but it was really cool to meet Laverne Cox. During the experience, I sensed a high level of stress in her. It wasn't anything she said or did – she was kind, polite and patient with me. Whether or not it was truly stress I was observing in her is unknown. Given that she was booked on dozens of speaking gigs at college campuses all over the country over the past few months, it's certainly understandable if "stress" was in the mix.
Ain't I a woman
Laverne started out her talk with the words, "Ain't I a woman.", to much applause. In a nutshell, she's powerful speaker with a positive, empowering message, and a history of deep, painful experiences. Her charisma, wit and use of humor made the time fly by, leaving me wanting more.
I don't want to get too much into the specifics of what she shared. It's something I highly encourage you to experience for yourself if Laverne comes to your town. You won't regret it. I'd jump on the opportunity to see her talk again in a heartbeat.
A couple things I do want to share, without giving too much away, are that she's still working through the pain (of growing up trans in an unforgiving world of conformity), and still struggles with self image. It's so easy to look at someone as beautiful, intelligent, strong and successful as Laverne Cox, and just think, "She's got it made and must live a really good life." Fact is, her path to success was an uphill battle stacked with hurdles and challenges that are unimaginable to most people.
Growing up with white privilege
There's nothing easy about growing up trans in a society that's rewarding of conformity and damning of anything that falls outside the "socially accepted norm". With all of the challenges that come along with being trans, it's important not to overlook that I grew up with something called white privilege. In my opinion, most white people are not consciously aware of their own white privilege.
There's been a lot of positive change in recent years when it comes to the acceptance of transgender people in society. We also have a long way yet to go. For all the difficulties, troubles and friction I experienced, especially those first few times getting out into public as my true self, I still had white privilege working in my favor. For trans women of color, it's a very different experience. Most hate related violence toward trans women is directed toward trans women of color. There were over 200 trans women murdered in hate crimes in 2013. Most, almost all of them, were trans women of color.
I'm brought to tears, just writing about this. The Transgender Day of Remembrance (TDOR) was on November 20. Photos of some of the transgender people who were murdered in hate crimes were displayed on the wall where the Trans Alliance of Greater Rochester meets. It's so very painful to see all of their beautiful faces… knowing they've all been violently taken from us, simply for being who they are, period. They had the courage to live an authentic life, and they were each murdered by homophobic/transphobic cowards – most of whom spent little time behind bars and were never even charged with murder. And that's a disturbing topic for another time.
Inspirational, motivational and empowering
In spite of all that was stacked against her, Laverne Cox persevered, kept moving forward, worked very hard, and achieved a successful career as an Emmy nominated actress, artist, producer, writer, transgender activist and public speaker (just to name a few). She spoke in depth about many of the dangers and challenges she faced along her journey. The silver lining is: she came out on top, stronger, wiser and better for living so bravely in spite of the many dangers. Now she shares her story, struggles and and success with the world. To label her talk as "inspirational, motivational and empowering" is an understatement. I don't have words to express my gratitude for her rising to the challenge and using her fame as a platform to educate the world about transgender realities and help us to achieve equal rights.
Thank you!
Thank you, Laverne Cox. Thank you so very much for all you do. I know you didn't ask for these challenges, and weren't looking to become a spokesperson for trans people everywhere, but thank you for taking on this very important challenge and making the world just a little better for the rest of us in the process. Your strength, courage and success is inspirational in ways I can't properly put into words.
Thank you. :)