Dear Gabi,
I am a crossdresser and I am really anxious about my parents finding out. Should I tell them or just keep hiding it?
Anonymous
---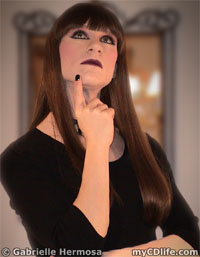 Dear Anonymous,
Deciding whether to tell your parents about being a crossdresser or keeping it a secret can be a tough call. The anxiety felt in being discovered is very understandable – I was once there myself.
What is right for one, may not be for another and this is a decision that you must make for yourself. In the end, telling your parents will probably work out much better for you than being discovered or caught by them.
There are many things to consider before discussing with your parents. I suggest you give serious thought to the following:

What do you think will happen?
Have you considered how your parents may react when you explain to them you've been crossdressing? It's not possible to accurately guess what will take place with any certainty, but think about the kind of people your parents are and how they might handle your coming out to them. This may be helpful in deciding how to best approach the subject with them.
Be prepared to answer questions
Most people do not understand crossdressing. Unfortunately, there is no one-size-fits all explanation, which often makes things that much more confusing to the uninitiated. When you explain to your parents that you are a crossdresser, they will have questions. It is important to be prepared for questions before coming out to them.
Some of the more frequently asked questions include:
How long have you been crossdressing?
Are you gay? / Do you like boys (in a romantic sense)?
Do you want to be a (real) girl?
Have you told anyone else?
Where did you get your female clothing? / Who's female clothing have you been wearing?
Why do you want to dress like a girl?
Have you already or do you want to crossdress in public?
Do you want to crossdress all the time?
What's next? /Where do we go from here?
You can't anticipate every question that might be asked, but prepare for what you can and offer honest answers. If they ask questions that you are not quite certain how to answer, do not attempt to answer them yet. Don't be afraid to explain that some questions require more time and thought to be properly addressed. It is best to thoroughly work out the right (truthful) answer and not to force out something that might not be very accurate. Things may get more complicated if not answered accurately/truthfully the first time around.
How confident are you?
It may not be easy to do, but it is important to display self-confidence should you decide to tell your parents. If your parents sense that you are confused and/or ashamed about your crossdressing, they might feel that professional "help" is needed and/or try to "cure" you. Although more people are beginning to understand that crossdressing is not a mental illness, condition, or disorder, many still believe it to be. Hopefully, that will not be the case with your parents, but it is a good idea to prepare for that possibility.
Keep in mind that how you deliver the news will influence how well it is received. Showing confidence and pride in yourself will go over a lot better than revealing something that you are ashamed or uncertain of.
I always explain my crossdressing as a gift. It is not something I suffer from or want to be rid of, but rather a cherished part of who I am and I am very happy to be me.
Hope for the best, prepare for the worst
Hopefully all will go well if/when you explain to your parents about being a crossdresser. Even if they don't understand it, they may still accept that it is a part of who you are and choose to learn more about it with you.
If your parents do not take the news well, how do you think you will react? Will you be devastated if they punish, scold or try to shame you? When I was discovered crossdressing by my mother at the age of 12, it was a very traumatic experience with long-lasting negative emotional consequences. That was a long time ago and times have changed considerably, but not every parent will be understanding or supportive.
Their roof, their rules
So long as your parents provide for you and you live under their roof, they have a lot of say in how you can live you life. If things do not go well, you might be forced to purge (get rid of) any feminine items you may have acquired. This is absolutely the wrong way for any parent to deal with a crossdressing child, but it is their right to establish the rules and guidelines that you must adhere to. They are only trying to do what they believe is best for you, even if their choices are misguided. Remember that in time, you will be on your own and able to live your life as you choose.
Good luck
There are plenty of good resources for your parents to learn more about crossdressing. I'd like to think my website is one of them. You may want to sit down and review some of the available information with them so that they can better understand.
Best of luck to you.
 
Related content: Dear Gabi Advice Column
Write to Gabrielle: Dear Gabi submission page