Dear Gabi,
I'm having issues with Girls. I feel a lot of envy towards Girls, and it often leaves me feeling so upset I can't focus on anything else. I feel teased whenever I see a pretty Girl walking down the hall, or come up to talk with me. It gets so bad sometimes I end up feeling really awful about myself.
I don't want to feel this way about Girls. I know they aren't teasing me, but I can't help but feel inferior. Please help!
-Bennie
---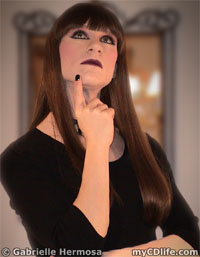 Dear Bennie,
I understand the feeling – it happens to me, too. When a beautiful woman catches my eye, I both admire her beauty and experience a sense of jealousy. "Why can't I be that beautiful?", I ask myself. What a strange sensation, to feel attracted to and envious of a woman at the same time. It's not something I let get to me, though.
More than just a silver lining
There is a deeper level of awareness many trans folk experience because of our own gift of femininity. We have the capacity to experience thoughts, feelings, emotions, and understanding on a level that non-trans folk are generally unaware. What you do with that experience is up to you. Since you do have a choice, why not choose to see it as a positive thing? For starters, you'll be able to relate to a potential romantic interest on a deeper level that is inaccessible to most men. Women often pick up on these things, and consequently experience a stronger love connection. That's certainly a benefit in my book.
Reality check, and refocus attention
Women aren't flaunting their beauty just to upset those of us who long to be beautiful ourselves. The next time you catch yourself feeling jealous because you see a pretty girl, pause for a moment and just be mindful of those thoughts. The thoughts may be there, but they do not embody who you are – they're just passing thoughts. It may sound a little odd, but it's true. Just be mindful of them and listen, but only for a brief moment. Then center yourself back into the reality of now. Take a moment to focus on where you are. Notice your surroundings – the ground beneath your feet, the sky above, or ceiling, buildings, etc. Look at the colors, textures, and fine details of objects in your immediate vicinity. Mentally recite to yourself what you see in as much detail as possible. Pay attention to where you are and regain conscious thought of the "here and now". If the gloomy duet of jealousy and envy start singing their depressing tune in your mind, then wash, rinse, repeat – center yourself again using the same technique.
Be good to yourself
There's nothing to be envious of. Enjoy and admire all the beautiful women who pass by. Be in the moment, though. Don't allow envy or jealousy to overwhelm you – they're just thoughts, nothing more. Remain centered, practice focusing on the here and now, and let go of that which serves no purpose other than to ensnare you in your own mental trappings.
When you get better at turning off the thoughts and tuning into now, you'll have an easier time with things. The sight of a beautiful woman will produce less envy and more opportunity. The opportunity to maybe engage her in a pleasant conversation, consider incorporating something about her look into your own style, or just take in the sight of her beauty and appreciate the moment.

Related content: