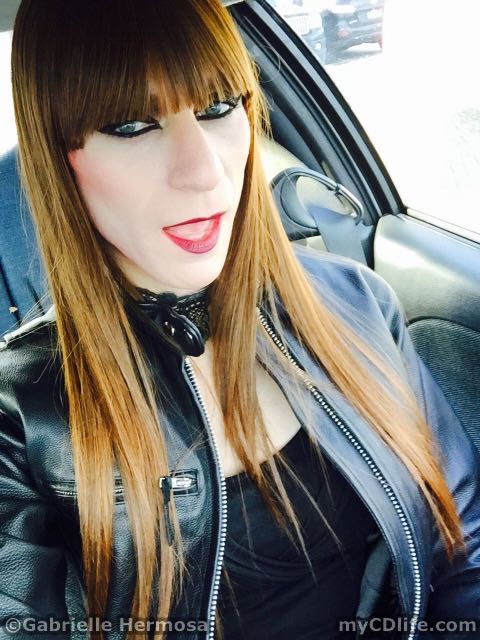 Almost daily, I hear accounts of transgender people having a difficult time in public, often being disparaged, laughed at, or otherwise treated poorly/different just for being trans. It used to be that way with me, too. It wasn't long ago that I also experienced being laughed at and disparaged. Today however, it's a pretty rare occurrence.
Christmas shopping is a pretty common activity. Most people do it, and their biggest complaint is finding a parking space. I'm happy to say that on this particular day, I had little trouble finding a good parking space at a local mall, packed as it was.
The reason I'm posting this is to draw attention to the very positive experiences I have out in public, and why I believe no one gives me a hard time anymore.
Passing isn't everything
Within the very diverse transgender community, there is some debate as to whether or not it's important, or even desirable to pass (ie: to look like a cisgender person; to not look trans). Some feel it is very important to pass, others don't care, some don't want to, and there are even those who look down upon trans people who do, want to, or go out of their way to pass.
Personally, I do want to pass. I want to look like an attractive cisgender woman to the rest of the world. There is no shame in being transgender. I'm rather proud to be trans and plan to continue speaking publicly to educate about trans realities. For me it's a vanity thing, and I don't care what anyone thinks of my desire to pass – good or bad.

Unfortunately, I don't pass. Anyone who's seen me in person knows what I'm talking about. Don't get me wrong – I invest much time, money, and effort into my personal appearance and look pretty damn good! I just don't look entirely female. Because I'm vain, I tend to only share my most flattering photos online. If you've never seen me in person and think, "She certainly looks passable to me!", thank you! :) I appreciate that. But I don't pass, AND I'm ok with it.
Just to be clear: being transgender isn't about passing. Being transgender is simply a state of being – it's about being who you are. One's desire to pass, or lack there of, is entirely a personal preference.
Why I don't need to pass to get along just fine
A few years ago I was complaining of bad experiences in public. Other trans people shared advice that I didn't quite understand until just last year. Their advice: it's all about attitude. It took me a while to become a believer, but it's true. The right attitude goes a long way.
A positive, self-confident attitude is a good start. Genuinely not caring what anyone else thinks of you is also very important. When you truly don't care what others think of you and have no fear of being judged, then you're pretty much free to do whatever you want. People can tell when you're comfortable or uncomfortable with who you are.
Some of the things that work for me
I'm very comfortable with who I am. I'm self-confident. I don't pose a threat to anyone. I'm always grateful just to be me, and for all that I have in my life. I'm very respectful and kind to others. I go out of my way to ensure that others feel welcome. I frequently use humor as an ice breaker and/or to help others feel comfortable and welcome.
Without fear of judgment, one becomes free to enjoy the experience
I was able to get out and take care of some last minute Christmas shopping for my wife this past Saturday. The experience was very good, despite how packed the mall was. Whether it's because people read me as trans, or perhaps maybe (hopefully) just find me attractive, I was aware of many eyes upon me while walking the mall and browsing at stores.
Cool, shiny distractions
The main goal of shopping was to pick up some additional Christmas gifts for my wife. Plenty of cool, shiny things caught my eye along the way, though…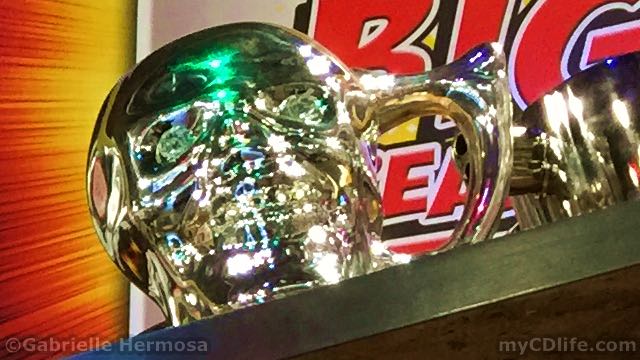 One of my favorite places to stop is Spencer Gifts. They've got some really cool, unusual and fun novelty items I enjoy checking out. Their display of skull mugs caught my eye and it wasn't long before I found myself browsing the store in search of cool "skull stuff". Skull earrings, rings, belts, mugs… but my wife isn't really into skulls and I wasn't there to shop for me.
It's a small world
Exiting Spencer Gifts, I heard someone yell out: "Gabi!". A young woman who attended a talk I gave back in February recognized me, and came over to greet me with a big smile and even bigger hug! We enjoyed some conversation before she rejoined her friends. I really LOVE when that happens! It's one of many benefits of public speaking – the awesome, beautiful people I have the privilege and honor of meeting along the way, and new friendships that result.
Random compliments and making new friends
Last week at a different mall, I received a random compliment from a female store manager who told me, "You look beautiful!" I don't remember the name, but it was one of the more upscale clothing and jewelry stores. I'm happy to say that I received a similar compliment on Saturday while passing by the fragrance counters at Macy's.
It felt a little less like a random compliment this time as the gorgeous young sales woman went immediately into a sales pitch. She still lit me up with a smile and I stopped to listen to the sales they were having.
A few minutes into our conversation, a young gentleman came over and said hi to the fragrance sales woman. They were co-workers and friends. I introduced myself to him and we enjoyed some cool conversation. Turns out he's a drag queen who performs locally at Tilt Nightclub and 140 Alex Bar and Grill.
We exchanged business cards and became Facebook friends right there on the spot. While conversing, he mentioned he was going to be leaving Rochester for San Fransisco, California, next year, pursuing a career in the entertainment industry. I'm glad to have met him before his departure and sorry he's leaving.
LGBT acceptance
We spoke a little about how how LGBT people are treated locally. To my surprise, he mentioned that he was called a "f*ggot" by a Macy's customer earlier in the week. It's been a little over five years since anyone has said anything like that to me in public (which I wrote about here). Most people treat me very well these days. He mentioned that she seemed upset that they didn't have a particular item in stock and that was her response – to disparage him.
Having done five years hard time in retail myself (many years ago), I completely understood the capacity for customers to say terrible things to and treat sales associates poorly. It was still surprising to me to hear that that's still something people, especially a woman shopping at Macy's, might say here in Rochester, New York, publicly, and directly to someone. He wasn't happy about the treatment, but seemed to take it in stride and remain generally up-beat. While we talked, at least 3 or 4 other people came up to him to say hi and gave him a hug. He's such a wonderful, welcoming, kind and friendly person with such a beautiful personality – it's easy to see why he has so many friends.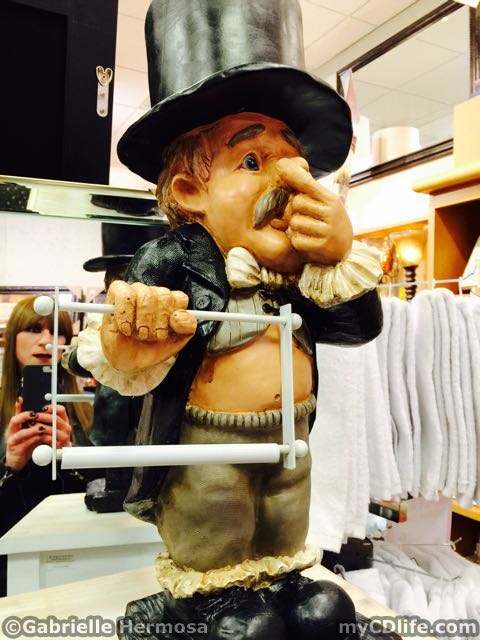 Back to Christmas shipping for my wife
My wife has always liked Kirlkands so that was my next stop after Macy's. The photo you see to the right was taken there. I couldn't help but wonder if I smelled bad or had forgotten to wear fragrance? Why was this figurine of a man in a top hat plugging his nose? The answer is to offer a fun photo opportunity to share! :)
Getting down to business, I found a decorative lamp, mirror and a little light-up butterfly that fell into the "what my wife might like AND I can afford" category. Headed over to the cashier with the goods, downloaded the Kirklands app to "spin to win" a discount, enjoyed little conversation with the cashier and the woman next to me (who was also downloading the app), and I was on my way.
My Christmas shopping is officially complete for 2014 and I'm glad it also offered me an opportunity to share more of my public experiences. I really can't complain – no one treats me poorly in public, on the street or local businesses.
I'm treated well and very grateful for it
Kind gentlemen often hold the door for me as I'm entering or exiting buildings. Cashiers almost always strike up a pleasant conversation with me. Also very common is random strangers engaging me in conversation while browsing or waiting in the checkout line. I get stared at a lot, but it doesn't seem to be a negative thing. The last time that I was aware of any negativity or disparaging behavior toward me was back in January. Even that was a minor thing and I really didn't care.
For those of you who may feel a little uncomfortable out in public, please know that you're in good company. I was that way, too, and sometimes I still get nervous, depending on where I go. In my case, the right attitude, a lot of gratitude, not caring what others think of me, and a healthy dose of self-confidence did the trick. You don't have to pass (as cisgender) to have a great experience in public, but you do need to have a real, genuine, positive energy about yourself.
You will find what you seek
If you go looking for, or expect negativity from people, you will probably find it. If you go looking for love and positivity in people, you will probably find it. The energy you put out into the world is what gets reflected back. What we see in others, exists within us, so make sure you're filled with love and gratitude to tip things in your favor. Sometimes you can still do everything right and still have an unpleasant experience. Don't let the negative vibes of others stick to you. Let it pass right through you. Brush it off, and move forward. Be grateful you're not that jerk (or group of jerks)!
It's a really small world!
After shopping, I stopped at Equal Grounds Coffee House, where a married couple approached me. Each of them had met me at separate SafeZone Training events that I assisted with. What a pleasant surprise! We hugged and enjoyed some really good conversation. I learned that one of them was looking to get into public speaking about suicide prevention – something I've also been working on, for teens and high school presentations. Perhaps that's something I can write more about in the future.
Merry Christmas and Happy New Year!
Thank you for spending a little of your day here with me. I wish you a Merry Christmas (and/or other holiday(s) you may celebrate), and a very happy and safe New Year for 2015! Be happy. Be safe. Drive safe! With all my love and best of wishes!
Namaste